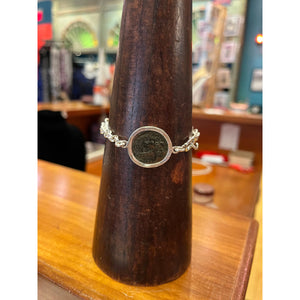 Original Bracelet by Detritus Luxe
Lovely sturdy silver asymmetrical clasp bracelet with a really cool Byzantine half follis coin with a K and a meant to be seen hook and eye clasp. Nice rolo chain. 
 8" Chain
Approx coin age:  600 AD

Sterling Silver
Comfortable and elegant
Handmade by local designer in Austin
One of a kind

Unfortunately, we cannot honor discounts on this item
🛍️ Want it now?  Curbside or In-Store pick-up available!